Mesin RO
KENT Grand+
Most trusted and largest selling RO water purifier with a transparent design that shows off KENT's patented Mineral RO technology and an inbuilt TDS controller. Best suited for Indian homes and offices and suitable for purification of brackish/tap water/municipal corporation water supply.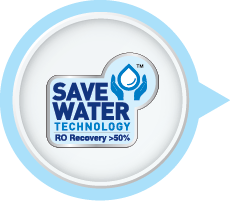 Save Water Technology
In conventional ROTM Technology, only 20% of water is recovered as purified water and about 80% is rejected. KENT's Save Water Technology employs a computer-controlled process that recovers more than 50% water as purified water. The rejected water is stored in a separate tank that can be utilised for mopping and washing, resulting in no water wastage.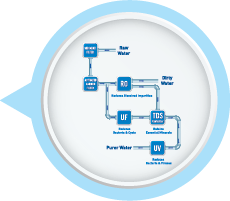 Mineral ROTMTechnology
KENT's patented Mineral ROTM Technology retains essential natural minerals in purified water using the
TDS Controller, thereby providing 100% safe and tasty drinking water.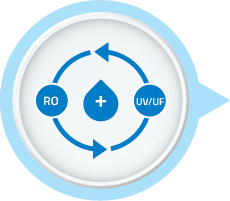 Double Purification
The double purification of RO + UV / UF removes even dissolved impurities such as chemicals, bacteria, viruses and salts, making water 100% pure.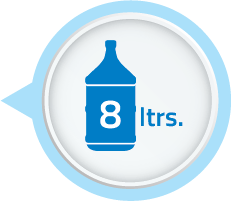 High Storage and Purification Capacity
KENT Grand+ has 8 litres of purified water storage capacity. Its high purification capacity of more than 15 L/hr helps in providing purified water at a faster rate, making it easily available for you.
World's Top Quality Certifications
This RO purifier is tested and certified for its performance and quality by world's renowned laboratories, such as the WQA (USA & India), NSF (USA) and ISI (India). These achievements guarantee that KENT not only gives the most purified water but is also trusted by millions.
SPECIFICATIONS
| | |
| --- | --- |
| Applications | Suitable for Purification of Brackish / Tap Water |
| Purification Capacity | Upto 15 LPH* |
| Body Material | ABS Food Grade Plastic |
| Mounting | On the Wall |
| Dimensions(mm) | L 410 W 260 H 520 |
| Inlet Water Pressure/Temp (Min) | 0.3 kg / cm2 or 4.3psi / 10°C |
| Inlet Water Pressure/Temp (Max) | 3 kg / cm2 or 42.7psi / 35°C |
| Filter Cartridges | Sediment, Carbon Block Filter, UF & Post Carbon |
| Auto-Flushing System | - |
| UV Lamp Wattage | 11 Watt |
| Weight | 9.4 kg |
| Storage Capacity | 8 L |
| Purification Production Rate | 15 L/hr. |
| Maximum Duty Cycle | 75 L/day |
| Power Consumption | 60 W |
| Membrane Type | Thin Film Composite RO |
| Booster Pump Voltage | 24 V DC |
| Input Power Supply | Single Phase 220 ± 10 V AC, 50 Hz |
Installation, Warranty & After-Sales Service
Installation shall be done free of cost at customer's premises
Product warranty shall be effective from the date of installation. Warranty coverage period for different parts shall be as under:
All Electricals and Mechanical parts - 1 Year Consumables like RO Membrane & UF Membrane - 1 Year Consumables like Sediment Filter, Carbon Filter & Post Carbon Filter - 6 Months
After-Sales service shall be provided at customer's premises on demand basis
**Purification capacity tested on raw water with TDS level of 750 ppm at room temperature
BROCHURES & MANUALS
TESTS & CERTIFICATIONS





CUSTOMER REVIEWS
5 stars, based on 5 reviews


SMARTEST
smartest machine ever.....best taste, must say that best purification...
Kunal Mahadik
---

BESTEVER
NO DOUBT WATER QUALITY IS GOOD. EASY MAINTENANCE FOR DOMESTIC AND COMMERCIAL BASIC. IN MY DISTRICT ANGUL, ODISHA MAJORITY OF WATER PURIFIER USER PREFER KENT FOR ITS PURITY....
Kalpanika Tripathy
---

SERVICE
we are satisfied with your services.
Siddarth Yadav
---

GOOD
very good product as i got very harassment from distributor,s service but service franchise MS/ SAHIL ENTERPRISES provided very good service.now i am satisfied from company,s service and product.very good
Bhupinder Singh
---

SERVICE
kent ro is very good. its after sale service is also very good. in jaipur its service center is very doodi m satisfy with service. safex technology providing good service.
Mahendra kumar Sharma